I have never gone this long without blogging. Not even half this long. But I have a good mommy-note: "Jane was late with her assignment because she now has three fosters and is seriously in over her head." In other words, I was too busy doing rescue to write about… doing rescue.
This pursuit of the heart requires a lot of triage – sometimes even once a day – to make the right decisions as to who gets my most urgent attentions. With my festival coming up quickly, I had already told everyone that I could not take on any more rescues. Then we got an email that four kittens had been seen wandering down the middle of a dirt road north of here. Abandoned, it was surmised. And they were smack in the middle of coyote and even mountain lion territory. Suddenly it was triage time again. How could I not go? How could I not help?
Two kind women up that way guided me to where two of the kittens had hidden – inside a garage. I begged them to please feed every day until I could trap. Ten days ago I scooped up Thor and Loki – bonded pals but remarkably not brothers – who have been recuperating from their ordeals in my garage. It took all of one day for them to come around, and accept and return buckets of feline love. Now fixed and vaccinated, I'm looking for a home for the pair.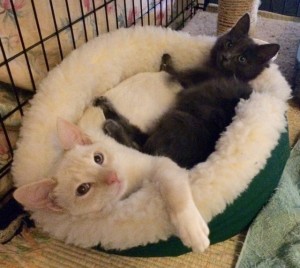 At the same time…
Five weeks ago I blogged that I had taken in Colby, the Maine coon with the broken toes, and he was improving. And so he did! To a point. Confined to a dog crate, he didn't have enough room to move around to really show me how he was walking – and whether he was healing. So at the three-week mark, I accepted a friend-in-rescue's offer to let Colby stay in her outdoor enclosure where he could continue to heal. I planned to go by once or twice a day for a visit to see how he was walking.
The problem: he didn't. Every time I went over, he'd huddle in a canopy bed, or under a blanket, and I could not tell if his toes were healed enough for him to walk. He did not seem miserable, but neither did I think a young cat like Colby (not even a year old) would enjoy spending his entire life in a small enclosure. Also, I underestimated how long it would take me to do my daily visits to see him: about 30 minutes round trip. It was killing me. I brought him back today and put him in a newly purchased, tall cat condo on my deck, where I'll hopefully be able to observe him more closely.
It's all means to an end: figuring out the best thing for this sweet (if angry) boy.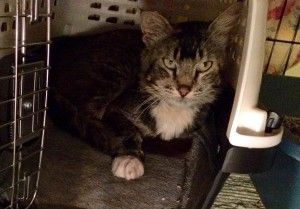 Also during recent weeks, I was told about a litter of kittens at a ranch in town. I went up to get a look, and found four kittens around 8-10 weeks old, still nursing a very tired looking mama. A subsequent conversation with the ranch owner proved extremely puzzling: she asked for references like I was applying for a job, when in fact, I just wanted to help those kittens by spaying, neutering and adopting them out. (The latter plan, especially, did not go over well.) I'll spare you the rant version of this story and stop there.
The festival is in two weeks, my big annual road trip to my friend's cabin is in 3.5 weeks. All of these things must resolve themselves before I go, or my long-awaited ME time could be scuttled. But I can handle things if they stay stable until then.
… or so I hoped until this morning when I discovered that Tommy – the ne'er-do-well tabby at the Higgins farm who slipped into a vat of goo a few months ago – had a badly swollen mouth. His tongue sticks out in an unconscious taunt, and his jaw is extended. A bee sting? Mouth cancer??
Time for managing triage again, and perhaps for dragging a reluctant stray to a vet in the time I don't have. But how could I not help? Walking the walk means not being able to look away from suffering, even if it puts me over the edge sometimes. St. Francis, how did you do this for so many years?