I had hoped to have Dorian Gray healthy and returned to his beloved ravine before I took in any other feline patients, but he was so ill that it's taking time to build his strength back. And in the meantime, little Daisy was worsening over in the parking lot. When she vomited her breakfast back up because she was so congested she choked, I thought that I couldn't let it go on any longer.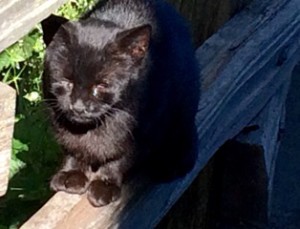 Poor little booger-face!
So I started feeding her next to the trap (smart little thing, she avoided it for days) along with her new boyfriend, the occasional visitor I call Midas for his beautiful golden fur. Here they were a couple of days ago, neither of them showing fear of the trap.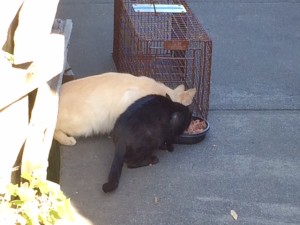 So this morning, my heart pounding (as it always does) I got there very early and enticed her into the trap with sardines. She was NOT happy and thrashed around, but settled down quickly after I put a blanket on top of the trap. I took her in to Dr. McKinney's office and left her so they could evaluate and possibly spay her if she was healthy enough. I was anxious to know why she was so rail-thin, with such sparse fur.
The good news was that she does not have FIV or Feline Leukemia, and she was healthy enough despite the upper respiratory problem to be spayed. The bad news is that Daisy had a bad uterine infection, but the good doctor took care of that during the surgery. She said this is rare in such a young cat (I've been assuming Daisy is not much older than a kitten) but such is the result of hard living in the ravine.
The doctor asked to keep her over the weekend for observation, so I'm anxious about how this little sweetpea will feel when she wakes up in that strange place. But I'm trying to remember that she is now SAFE, and warm, and getting good food. And I'll get her Monday and bring her home, where she'll share a room (though a different crate) with her old friend Dorian, while she recovers and while I assess whether she might be a candidate for fostering and then adoption. I plan to put their crates close enough to each other so they can see each other, and perhaps derive some comfort from that.
I have given up on Dorian becoming a housecat. He has calmed down some, and sometimes even allows me to touch his head, but clearly is just counting the moments until he can leave and resume life in the ravine. Sigh. But he is still so weak and frail that the doctor suggested a run of prednisone for him. I mix it in the morning into the baby food and acidophilus he eats (one of the ONLY things he will eat) and already after a couple of days I think I see a difference. It's been six weeks since I took him in, what's another week or two? Double sigh.
Meanwhile, my downstairs cats are showing signs of stress. (How could they not? With my attentions divided by two patients?) Even Lena, my tiny black female, has turned into a hellcat on occasion. This time, she levels her ire on an unsuspecting and VERY undeserving Big Mike, who is literally twice her size. Although, if you notice, he took the first swing. But it was clearly in self-defense!  😉
I sometimes think about letting Ginger Rogers out of the downstairs half-bath, where she started living six months ago when she was given "a few weeks to a couple of months" to live. But she seems genuinely happy in there, and to be honest, I don't think I could handle any more chaos. If I knew she had another six months before the mouth cancer claims her, I would be tempted to let her mix with the others.
But right now it's a freekin ZOO around here. Military-style detentes exist and I do my best to make everyone happy. It's hard sometimes but we're managing. Slowly and stumblingly but with love and compassion for all critters who cross these borders into my home and heart. Think good thoughts for Dorian and now Daisy, that they heal quickly and rise up to meet their destinies, even if it means leaving me in the rearview mirror.