Hello friends! It's been 10 days since I posted. Most of that time I've been trying to deal with a bit of reality handed me a week ago today: Ginger Rogers is, in fact, terminally ill. The mass under her tongue is a squamous cell carcinoma; in cats, that condition is not reversible. The vet gives her a few weeks to a few months to live. They tell me I could let her have surgery, which would remove the cancer but also part of her tongue and possibly jaw, and likely lead to tube-feeding and misery. And the surgery would only add a short time to her life. I was unprepared to have to make this decision.
Despite the newness of my bond with the wee tortie, nothing has hit me harder in a long time. It seemed so hideously unfair – that this little street urchin should finally find someone to love and take care of her only to have her time cut short. This news, combined with bad news about someone in my extended family, resulted in several tearful days last week. But fairly quickly, and after speaking to friends who understand, I realized that this "service" I provide is sometimes going to require that I revamp my idea of what "saving a life" really means. She might not be living happily ever after, but she is certainly living happily for this most important transition. And, I decided, I should not put her through the surgery. If she indeed found me so I could help usher her out of this world, I'm going to make it as pleasant as possible.
And how DID Ginger find me? The person who'd scoop her up and scotch-tape her together so her final time on the planet would be warm, comfortable, and full of love? And why the hell did the universe pin this duty on my lapel? I railed silently about this last week – I am too emotional and open-hearted as it is. My feelings about everything related to these animals are so intense. Can't St. Francis give hospice duty to someone more matter-of-fact? But it seems I have no choice in the matter. And as I do believe these things happen for a reason, I continue to try and wrap my brain around the positives of the situation.
I've almost succeeded. Where in those first days after diagnosis I'd hold Ginger and fight tears, now I treat her like any of my cats – singing to her when I see her, playing with her, feeding her and holding her close – even as I know our time together will be short.
What helped me get over the hump? Ginger herself. Feeling better from the peripheral ailments (upper respiratory infection, skin rash ETC.), she is a cheerful little sprite. The only reminder of her serious illness is a nearly omnipresent bit of drool on her cute chin. As the doctor reminded me, "She doesn't know. She's not afraid. Humans are always projecting our fears onto our animals." Even so, this is one brave little beast. I would not be surprised if she outlives the prediction by a good long while.
Here she is a couple of days ago.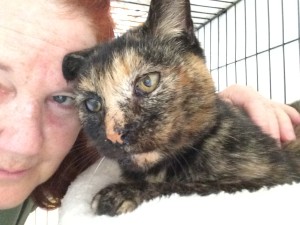 Meanwhile, the news on Big Mike has been quite the opposite – total cause for ELATION. A week ago Dr. Boltz marveled at how well her latest procedure (skin plugs and sutures) have served to close his lower wound. And when I sent her a photo yesterday, she said we didn't have to come in for another week! Wow! And her brief missive: "Looks like we might finally have done it! :)"
I could have danced. She cleared Mike to leave the tiny bathroom where he'd been since Dec. 1, and resume his residency in my second bedroom. As I herded him up there, I gave him a lecture: Pretty soon you'll be able to get up on the bed for the first time in seven months!! But it's a high bed and we still have to be careful, so I'm going to lift you up at first, and hold you when you get off. We'll take it slowly.
When he arrived in the bedroom he ensconced himself under the bed where he always stayed before, and I went about my business. A single hour later I went up to check on him, and this is what I found: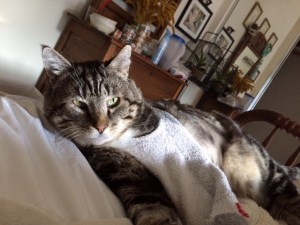 Yes, this is Mike. Up on the bed. By himself. The expression says it's awesome up here!! I had to laugh out loud. There's no stopping him now.
So my two rescues are on very different paths. One ascending to a very wonderful life he so richly deserves, the other descending to a hopefully wonderful death. I guess these are just two sides of the same coin.