Most of the folks who read this blog are my friends, therefore they would already know that my father died on Friday. He was 95. Nine days earlier, he'd had a small stroke that put him in the hospital, unable to swallow. This would be what finally killed the guy we all began to think was immortal.
It was a life event so devastating to me that I wasn't sure if I could write coherently about it in blog form. What could I say? How does my feline universe tie into my loss?
Like this. The day before my dad died, I adopted out two of my three foster kittens to a wonderful friend. That meant their brother was left behind. I felt okay about this, as the two sisters were very shy and attached, and Spats (so named for his funny paw markings) was brave and independent. That is, until he lost his sisters. I came home from the hospital Thursday night and went straight to see him in the big walk-in closet that's been his home. He was crouching in a corner, big-eyed and anxious, and came quickly to sit in my lap.
As I stroked his silky fur, I sensed that the death of my father was soon to come. I broke down in sobs, and he stared at my face with such tenderness and curiosity that I knew he was somehow understanding. He, too, had just experienced a terrible loss. It was a transcendent moment, a connection between species.
Not wanting him to mix with my two bedroom kitties who are ailing with upper respiratory issues, I reluctantly put Spats back in the walk-in closet for the night – and he was not happy. He cried (something I don't think he'd done before) and scratched the carpet under the door. I was so exhausted that I drifted to sleep quickly – only to be awakened in the middle of the night by a flash of fur galloping across the bed.
And when I woke up the next morning, this is what I found in bed next to me.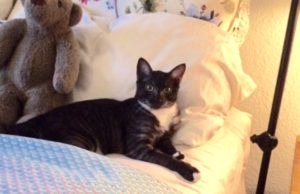 Spats had somehow freed himself from the closet during the night and had settled in nicely among my sheets. Remarkably, neither of my bedroom kitties took offense. I spent a few minutes luxuriating with his sweet purr in my ear, letting the sound of it soothe my anguished heart and gird me for the day I feared was ahead.
Then I got up, went downstairs, and got the call from my sister that my father had passed.
I'm not sure what this story says except perhaps that animals – cats especially – can be as intuitive as many psychics. And the angels that buffer us from grief.
There is no cure for the pain I feel right now, but four-legged love is the best medicine we can hope for. Thanks, Saint Francis, for prescribing these sweet remedies in my life.