My desires are simple.
Continued luck with finding excellent homes for my rescues, starting with these three love nuggets, taken in on Christmas Eve. Meet 4-month old sisters Sonnet and Haiku, and brother Limerick. Trapped in a canyon, socialized and ready for a patient new mom or dad who loves to watch a sweet kitty bloom.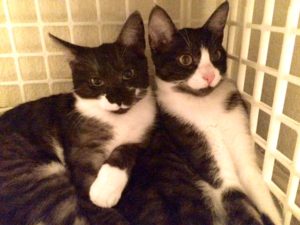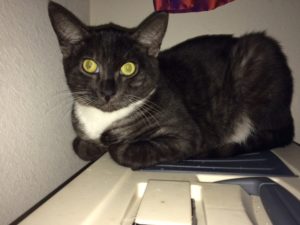 More evidence of happiness among my ferals. This was taken on Christmas morning – a kitty kiss / head-butt between farm cats – and it melted me.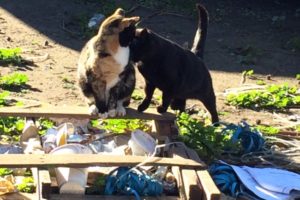 More cooperation with farms. Don't get me started.
Enough money to do the work. And then more money to do more work. (Thanks to those who have donated.)
More TIME to do the work. How this will happen I have no idea.
A third anniversary for my Ginger kitty, the geriatric tortie who was taken out of the parking lot two years ago today, diagnosed with terminal cancer, given two weeks to live, and she's been a joy to me since.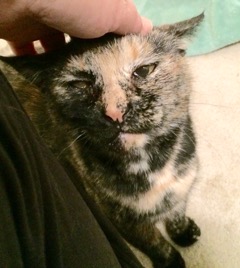 A move in the direction of establishing a sanctuary. See above re: having no idea how this will happen, but perhaps it helps to put it in writing.  😉
A presidential impeachment. (No, this doesn't belong here, but I figured as long as I was making a wish list…)
While we're at it, how about Feral Cat Rescue Day at the San Francisco Giants game?
The ability to make a shelter my ferals will actually USE. So far, batting around .200.
Mostly, I'm just hoping for the river of love that flows through my life to reach a torrent. If it's true that "love attracts love," when my grandchild comes this spring I'm thinking I'm primed for more intimate human connection. Having the love of saints and critters is a gorgeous thing. But before I die, I'd also like to hear that word used in reference to ME by someone who loves cats. It's a tall order, Francis, but I might as well put it in writing.  😉
Happy New Year indeed!