That's an old expression my parents used when referring to how people leave their mundane lives in order to check out how the wealthy live, presumably without the weight of responsibility for squeezing out a living. (In today's culture, of course it's nowhere near "the other half" – more like how the other 5% live, but that's a post-election discussion.)
In my case, I go on vacation to see how "the other half" – the one without ANIMALS in it – lives! I want what it's like to live without my own sometimes crushing responsibilities to the rescue work. It turns out, it's not completely to my liking. Here I am, in a place that is closer to heaven than earth, and every day I choke with emotion thinking of the cats I've left back home. I anxiously text the three people it takes to cover my brood and worry about my ferals; it's such a hard life and I've lost so many.
And I obsess about my house cats and how I much I need a squeeze around Big Mike's middle, lap time with Lena, a drooling nose kiss from Ginger, sleepy cuddling with Pokey in my bed. And Iggy's heretofore irritating need to drape himself on my chest while I work at the computer becomes, in my mind, something to crave as I write, undisturbed, with this view.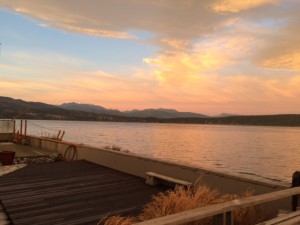 The Renoir painting of Puget Sound out my cabin window. Who could ask for more? Apparently, I could.
A neighbor had a friend visit the other day with a Welsh Corgi, who wandered over to my window. I almost gasped with delight when I saw her, and ran to the door to welcome her. I ignored the owner's shout  – be careful, she'll let herself right in! – and instead sunk my hands into the delirious luxury of her fur, murmuring sweet nothings to the unimpressed pooch, who did indeed wander around like she owned the place. Only when the owner crossed the fence to retrieve her did I let her go, after one more quick squeeze. I am clearly an addict, and this fix didn't do the trick.
Sometimes I long for the decades when I was selfish: untouched by the religion of animals, when Saint Francis had yet to snag in his grasp. But the tradeoff is a sense of purpose that I never had before. A cracked-open heart feels more pain, but its reward is a heightened sense of wonder, joy and gratitude.
At the same time, I think I've learned that three weeks is too long to be away – even when I justify it as being time I need to write the children's book (Marvin & Mocha) that will propel the rescue work forward. I find it very hard to write at home, with cat boxes to clean, mats to pluck shedded fur to sweep, and so many mouths to feed. But I need to learn some new tricks so I can. Because when I'm away the writing barely goes better – and I think it's because I need animal energy to be my best, most creative, self.
What's the answer? Move my desk to the spare bedroom so I can close the door – metaphorically and literally – on the kitties who prove such a powerful distraction? Start writing creatively in a cafe or library? I don't know. I just know it calls for some experimentation until I can get this book written. My gut and heart (and spiritual readings I've had in the past) tell me Marvin & Mocha could be a difference-maker in the way people view homeless cats. All it takes is one tiny lightbulb switching on in the head of a child, and the future is improved.
Back to working on the book. This is my final day here and then I start driving home to my responsibilities. Hoping my time away has enabled me to embrace them with a renewed lightness and joy. Grateful that distance really does make the heart grow fonder.